We're glad you're considering one of our schools! We have found that college is a great place to grow in faith and we would love to have you journey with us! In InterVarsity, you'll be encouraged to make your faith your own, develop as a Christian leader, experience genuine community, and join in helping others experience God's love and security.
Visiting one of our Campuses?
Visit us too!
If you will be making a campus visit to one of our campuses, a staff or student would love to meet with you to tell you more about campus life and InterVarsity. Just fill out this form to let us know when you will be here and a we'll get in touch.
Attending one of our Campuses in the fall?
Let us know!
Fill out this form and one of our students will contact you
when you move to campus in August.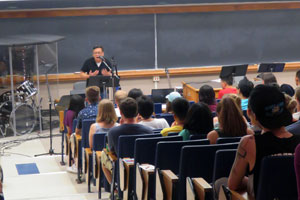 Large Groups
Each chapter gathers weekly for worship and teaching, and to hang out with friends and have a great time.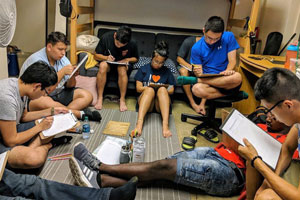 Small Groups
IV students meet in groups of about 8 to study the Bible together, build friendships, pray, and live out Jesus' mission to your campus together. Small groups meet in dorms and some Greek houses and apartments.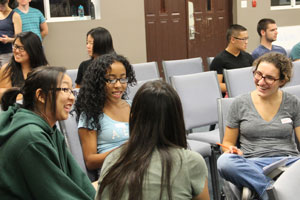 Leadership Training
InterVarsity runs on student leadership, and leaders need training to be effective. Every year we look forward to chapter retreats, weekend training conferences, spring break evangelism and urban ministry trips, our post-finals training retreat week in May, and (every three years) the Urbana Student Mission Convention.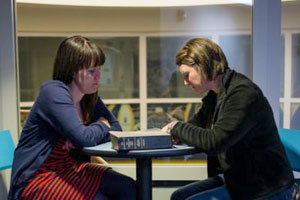 Witness
InterVarsity focuses our witnessing outreach on "Groups Investigating God" (GIGs), which are Bible studies for non-Christians, led by a Christian friend.
Frequently Asked Questions
Is College a place my faith can survive?
Definitely! Not only can faith survive, we've found that college is usually a time of significant growth in faith for those who arrive with the intention of following Jesus. And many come to faith for the first time in college. The key is to stay in community with other Christians and ask hard questions as they come up, whether intellectually or experientially.
What does InterVarsity do for fun?
Lots. Besides occasional organized activities, there is all the hang out time with the people who live near you. The best fun and memories come from shared experiences with people you know well, and just enjoying life together. In InterVarsity you'll connect closely with a handful of people in your small group, and hang out with all of the IV people in your dorm.
Are students serious about their faith?
Many are. You will be glad to find out how much fun you can have together while growing deeper with God and taking risks to join Jesus in his mission at your campus.
Where do you meet on campus?
Small Group Bible studies meet throughout campus, in your dorm or near where you live.
Whole chapter meetings are held in a lecture hall or other campus building.
Who are the InterVarsity staff?
There are about a dozen full-time staff working with the InterVarsity Chapters here at U of I to develop student leaders and coach them in their ministry. Most of them are alumni of one of the chapters here.
I'm fellowship shopping. What's great about IV?
Student Leadership!
Staff train, coach and support students leading their peers in ministry, worship, planning, and the rest. This coached experience in ministry is a huge source of growth during your time in college, and is great preparation for a life of service in the local church.
Bible Study!
Fun, interactive, student-led discovery discussion. We work hard to lead engaging Bible studies that get to the heart of the passage, and get the passage to our hearts. Once you try it, you'll never go back. And you can keep pressing in with ongoing training in inductive Bible study at pretty much any InterVarsity conference.
Effective Witness!
We love to introduce non-Christians to Jesus, especially by introducing them to the gospels. We've found that non-Christians feel respected and empowered, as they discover Jesus for themselves, and intrigued as they see that Jesus isn't who they thought he was. As they spend time with the Christian community and learn more, they can move at their pace, asking questions, getting answers, and doing the necessary soul-searching.
Diversity!
IV is probably the most racially diverse organization on campus, religious or secular. We come from many different backgrounds, and we can learn more about God from each other than we could separately. We get to experience the joy of worshipping in diverse community, and learn how the gospel informs our understanding of race and justice.
Fill out this form and a chapter staff will get back to you: